It's not working. People are dying out there. Families are struggling with really hard things that make it nearly impossible to live a happy, healthy and fulfilled life. Truthfully, conventional drugs and therapy are not making a dent and sometimes can even make things worse. It's time to turn back to ancient wisdom. We need therapeutic doses of love, respect, compassion and forgiveness. This is not your mama's therapy. It's not a trick or a self-help fantasy. It's a completely different approach in healthcare.
I can awaken superhero healing powers in people and I guarantee you will never look at the hard stuff that happens in life the same way ever again. I teach a clearly defined strategy that leads people through crushing times. Never again wonder "what to do" or "where to start" and you don't have to do it alone.
In 1993 I began a new healing initiative in emotional healthcare. Adults and children were coming to see me to heal physical and emotional pain by releasing "old hurt" through forgiveness. I became known as The Forgiveness Doctor. I called my discovery Emotional Polarity Technique or EPT. Since that time, I have trained hundreds of people, to help people the same way I was helping people.
As a chiropractor and holistic healer, I wanted a system, a healing approach that combined the best intelligence, wisdom and science to not only heal the body but to reach deep into the heart and touch the soul. When people are weary and breaking and nothing is making a difference, it's their soul that needs enlightenment. Forgiveness can do that. EPT uses the body and mind as the doorway to a collaboration with the soul for forgiveness. This is where miracles happen.
Emotional Polarity Technique is the empowering strategy I pretty much perfected into a teachable and reproducible system. The results tell the truth. EPT has over 25 years of clinical success ending all manner of physical and emotional pain and suffering and here's the best part, it works on children the same as it works on adults.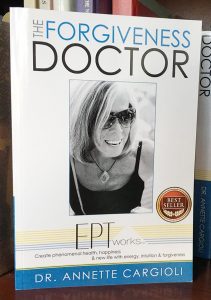 In The Forgiveness Doctor (an Amazon best-seller), Dr. Cargioli walks you through the Four Steps of Emotional Polarity Technique™ to identify and release the exact hidden memory that is preventing you from creating the success, health and relationships you were destined to have.
She will explain why forgiveness is the key component in Emotional Polarity Technique™ and how combining this one component with energy and intuition, can make miracles happen in your life right now.
Order now on Amazon Available in Paperback and Kindle.
Love Podcasts?
Listen to over 60 podcasts on the Listen, Love, Give Podcast.
Learn more about healing your life through forgiveness and how Emotional Polarity Technique™ can change everything for good.